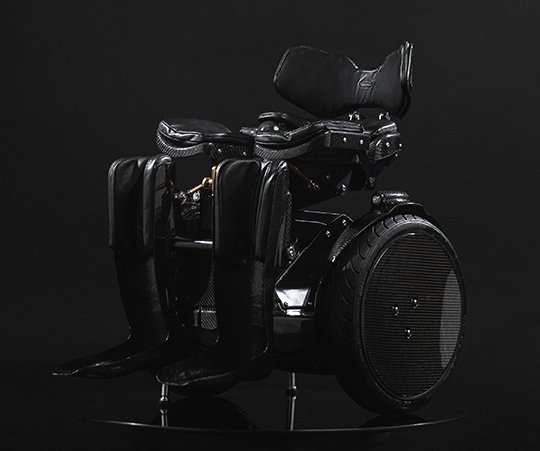 We offer a powerchair that can hardly be called a wheelchair and:
Max speed in normal mode: 20 km/h
Variable max speed in limited mode: 4 – 12 km/h
Seat height from the ground: 50 – 88 cm
Max range: 30 km
Batteries: 620 Wh / 55.5 V / 11.2 Ah
Battery charge time: 4 hours
Obstacle height: 5 cm on standard tyres/ 7 cm off-road tyres
Climbing angle: 20 deg
Turning radius: R=0
Parking: button operated stabilising legs
Total width: 59 cm
Total length: 60 – 70 cm
Overall height: 105 cm
Transport dimensions LxWxH: 70 x 59 x 56 cm (with the backrest folded)
Wheel diameter: 39 cm
Weight: 38 kg (batteries included)
User weight: 40 – 90 kg
Lighting: built-in front and rear LED lights
Optional:
Off-road wheels
Transport bag
Color on request
Positive effect on health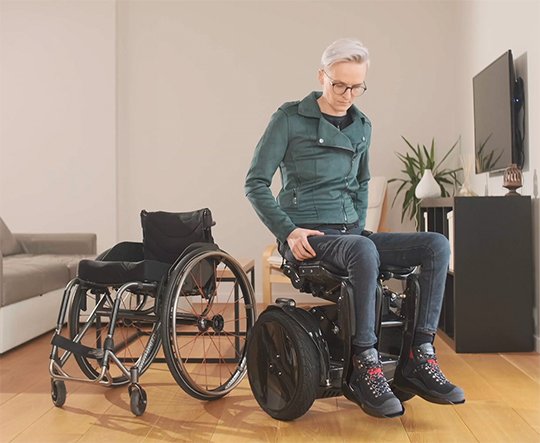 "When I got to try CHRONUS KIM1 I realized that my disability is no longer excluding me from others that much. I feel more confident when meeting people and not having to look up to them from the bottom. Feeling equal, sophisticated and more captivating. I can go around not asking others to help me reach things from top shelf at home, in store, at work or any other places. As I don't need to spin wheels, I have always free hands to carry things, use my phone or any other gadgets while moving. I am more able than I thought I could ever be after my injury."